Universal Studios, Florida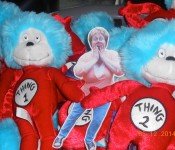 Universal Studios – lucky Susie!
Last week, SOAS traveled with my sister Priscilla, nephew Josh and bro-in-law Jay down to sunny Florida for a few days of play. The real Susie's never been to Universal, and I've often lamented missing all things Seusian. Clearly, they knew what I'd gravitate toward… ya think they know me well?!
Thanks, guys – LOVE YOU!!!! xoxos