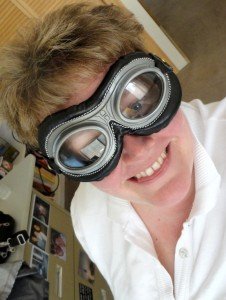 Hi – I'm Susie.
Here I am in my very cool Quiddich goggles – aren't they neat?
Anyhow, I used to travel lots but these days, not so much.
I really miss that.
So I created Susie on a Stick, to travel along with my friends on their journeys and adventures.
When I'm not blogging (and maintaining silly sites such as this one), I'm a writer and marketing communications specialist.  I reside in Newbury, New Hampshire, with my husband, two silly bassets and about 360 plastic windup toys.
Find me on Facebook or email me your comments.
Got another minute? Go peek at my other blogs, Susie's Shorts, Orange Swing, The Look of Joy and Funny Foreignese.
Now, go get your very own Susie on a Stick and take me along on your travels… thanks!